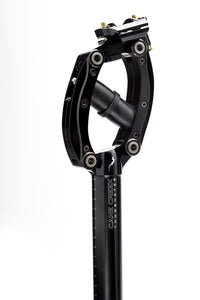 Thudbuster Long Travel Suspension Seat Post
Cane Creek
**Please note, the Thudbuster does raise the seat height 3.9 inches.  Also, your Thudbuster purchase comes with free installation if you are purchasing it as an upgrade for your new FLAUNT Electric Bicycle!
BOLT-ON COMFORT
Thudbuster is the most effective and versatile suspension seatpost on the market. Its patented, parallel linkage technology delivers a clear advantage in comfort and control. Performance makes this seatpost the perfect add-on for a wide variety of riders or bikes.
THE SCIENCE BEHIND THUDBUSTER
WORKING IN THE DIRECT PATH OF THE NATURAL TRAVEL OF THE REAR WHEEL
The Thudbuster technology stays in the direct path of the natural travel of the rear wheel. As a bump lifts the back of a bicycle, the rear wheel pushes up and forward into the rider. The Thudbuster works by compressing along the exact opposite path — down and rearward — absorbing force at the same rate: The net movement of the saddle is zero. Fully active elastomers provide approximately 3 inches (76mm, Long Travel) or 1.3 inches (33mm, Short Travel) of customizable suspension.
THUDBUSTER APPLICATIONS
Riders of all types of bikes around the world rely on Thudbuster to provide higher levels of performance and comfort.
Hardtail Mountain Bikes
The hardtail resurgence is real. Endurance, single-speed and 29er riders are quickly discovering that simple damping technology yields vast improvements in ride quality and control.
Road
Long, rough road rides become less fatiguing and more comfortable. The Thudbuster is perfect for touring and "cause" riders who find traditional saddle/post combos uncomfortable.
Tandems
A happy stoker is essential to fun on a tandem. A Thudbuster can make the difference between a beaten-up rear end and just a little bump now and then.
Folding Bikes
Small-wheel bikes with high-pressure tires directly benefit from Thudbuster suspension.
E-Bikes
In order to accommodate an engine, e-bikes feature, in general, very stiff and unforgiving frame designs. They are also ridden primarily in the saddle, rather than standing. The Thudbuster takes the edge off without changing the angle of your body in relation to the pedals.
Specs
| | |
| --- | --- |
| POST | Forged aluminum |
| LINKAGE | Forged and CNC machined aluminum |
| PIVOTS | Stainless steel axles with PTFE-impregnated sintered-bronze bushings |
| ELASTOMERS | Single rubber unit with various spring rates |
| TRAVEL | 1.3 inches (33mm) |
| LENGTH | 353mm (403mm, 27.2 xl) |
| WEIGHT | 454 - 474g (depending on post diameter) (489g, 27.2 xl) |
| MAX. RIDER WEIGHT | 250 lbs. |
| EXTENSION | Minimum - 98mm / Maximum - 251mm (301mm 27.2 xl) |
| DIAMETER (DIRECT FIT) | 25.4, 26.8, 27.0, 27.2, 27.2xl, 30.9, 31.6, 33.9 (additional diameters available with shim) |